Hi there,
few weeks ago we returned from our this years road trip to Sardinia. As usual, here some pics we have taken with a short summary
Without thinking, we planned the start on a weekend followed by a bank holiday. However, there were no traffic jamming. Only on saturday before Bern, Switzerland, streets were a little crowded.
Motorway near Bern
Near Montreux
"Great Saint Bernhard" - the pass was closed, so we took the tunnel with an extra fee.
Which was worth it as we did not met the other tourist heading south at "Saint Gotthard" in a long row...
Direction Aosta
Passing many, many castles - proving the strategical meaning of the valley during medivial ages.
First stop for an italian cappuchino
In the afternoon we came reached the area of River Po. Obviously, agriculture is dominated by growing rice.
A night in a nice
hotel
we did find by SatNav.
Arrive late and ask for a discount, that is the trick!
Next day following B-Roads...
through vineyards, vineyards and more vineyards...
...and little villages with a lot of peolpe attending church on whitsunday travelling from Piemont to Ligure.
The Apenin-Mountains so high and the valleys that narrow, at the bottom a bundle of roads, motorway, railway, river.
And villages, divided by all, like
Ronco Scrivia
.
Motorways near Genua are an adventure itself. Curves, narrow lanes, short accesses, tunnels and poor condition of tarmack are demanding full attention.
Near La Spezia we reached Portovenere.
Late afternoon, we went through La Spezia heading Livorno - the ferrya would not wait.
Surprisingly, we didn't took pictures during the routine of the next 16 hours. The next mornig, we reached Sardinia and went to
Patada, via Roma
One way? When?
Always, except SAT from 17 hrs, SUN and holidays around the clock and MON til seven, by this time it is a dead-end with oncoming trafic.
Parking disc obligat except residents, deliveriy, executive vehicles and disabled.
At home in Germany these facts might be shown by eighteen signs. At least.
What is this little mate looking for on our truck?
Spotted a creek between Otzieri and Mores, which was white! To have a look at it, we took a lane into the green and discovered no foam, but blossoms.
"CP-stop" (Coffee&Pee) in Mores.
Monteleone Rocca Doria
S' Archittu. Cloudy and windy...
The next day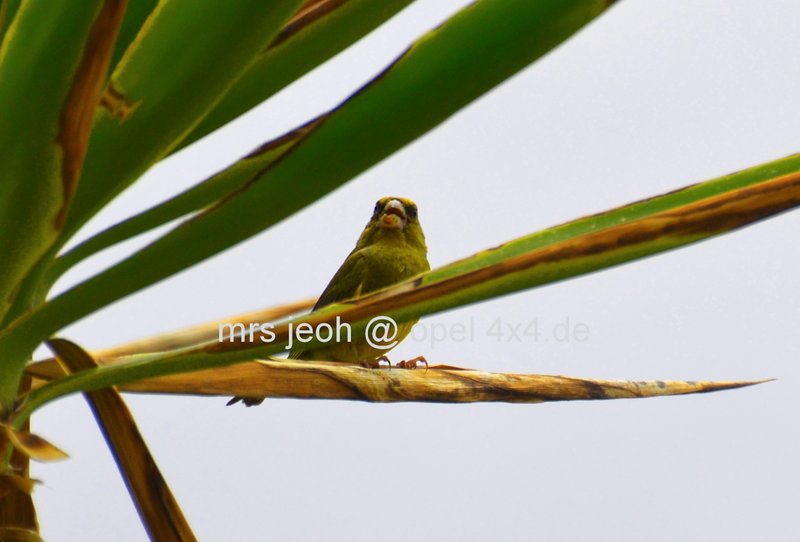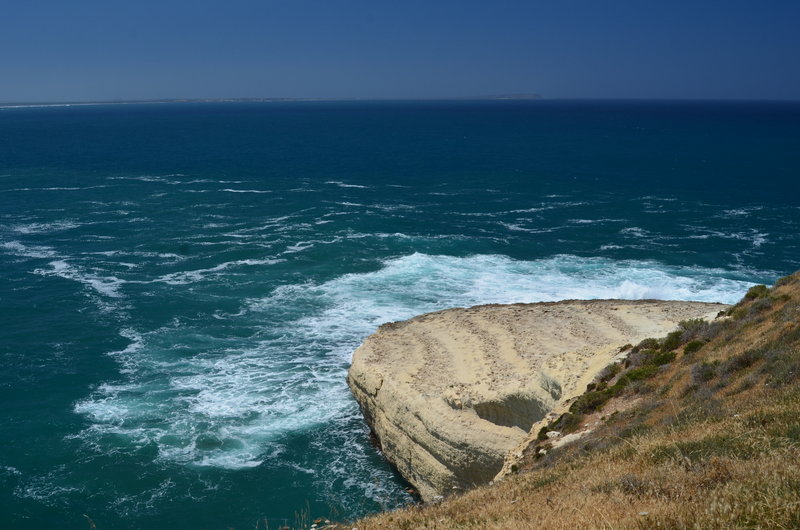 Damaged way to the beach caused by a storm during wintertime
Someone built a stairway
In the newspaper there was a report of some arguing going on in the authorities abaout natural monuments and so on.
of course, they are right. But these monuments belong to the people living there, earning money with the beach.
As always, the medal has two sides...
Scano di Monteferru - Church Chiesa di Sant'Antioco
Fountains
Statues "Tamules" near Marcomer
Nuraghe - old housing and kind of fort
At San Leonardo we met a guy with an old Toyota
New neighbours at the campsite. Family with two children, caravan and a
Tour Monte Ferru
From Santu Lussurgiu there is a Strada Bianca (lane lacking tarmac) through the mountains
to the coast near Santa Catarina di Pittinuri. While looking for this during winter on maps and the www, we realized that
Google Streetview had did it
already...
Waterfall Cascata di Sos Molinos near the start of the lane
On the lane
"there you are again"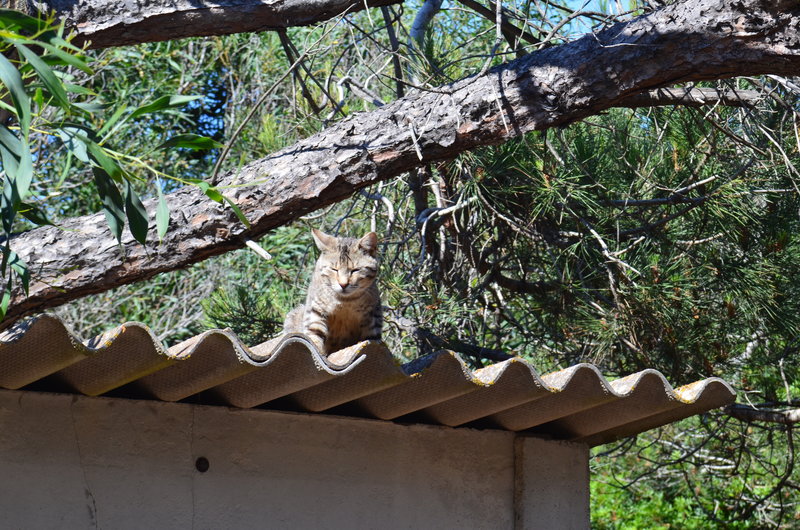 Beach of Sinis
At Cabras:
A concert of local bands with surrounding market and lots of food
Night at the AgriCampeggio
In the mountains we discovered
a farm with camping area
Crossing the island from west to east coast
Crowded Camping Telis
New, but used truck of our friends from Kempen
A friend from Swiss/Jura has something new as well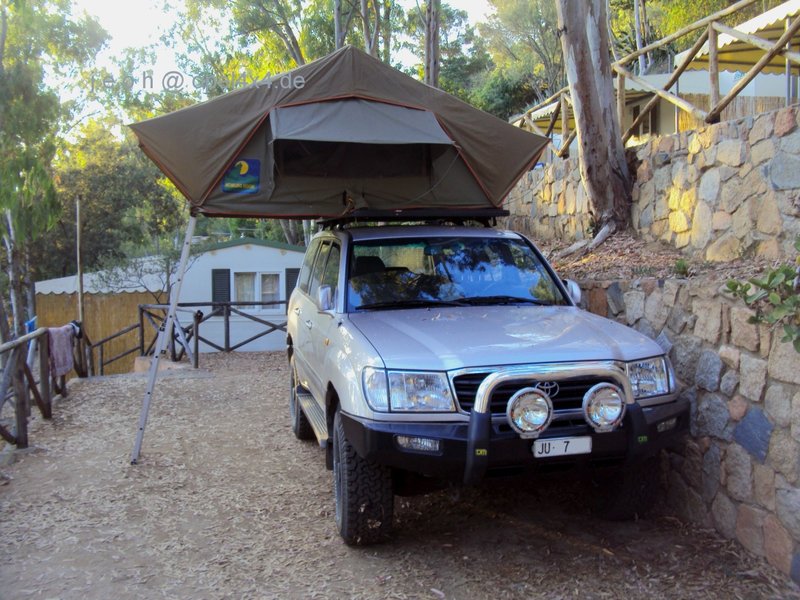 Spotted: Solution for transporting a barbecue
They are looking for something...
They as well... Ministry of Finace/Toll
This year less cats, but in the wall behind the tend...
WTF - I have won four kilo weight!
Tour Montes/Orgosolo
The forester's lounge (Foresteria e Museo nel bosco di Montes (Orgosolo)) is well known by hikers.
We took a look as well, hoping to find a lane to drive.
Dead end. Carpark. Hiking trail. Basta!
What is this noise coming from?
Some Enduros and a G-Wagon (from Monaco) are coming out of the woods.
So we asked some foresters and learned the difference between the hiking trail and those lanes you are allowed to drive.
It is always worth to ask for information! Let's go.
Concert at Fonni - Paola Turci
Champions-League before
"Open village" at Baunei
Urzulei - High plain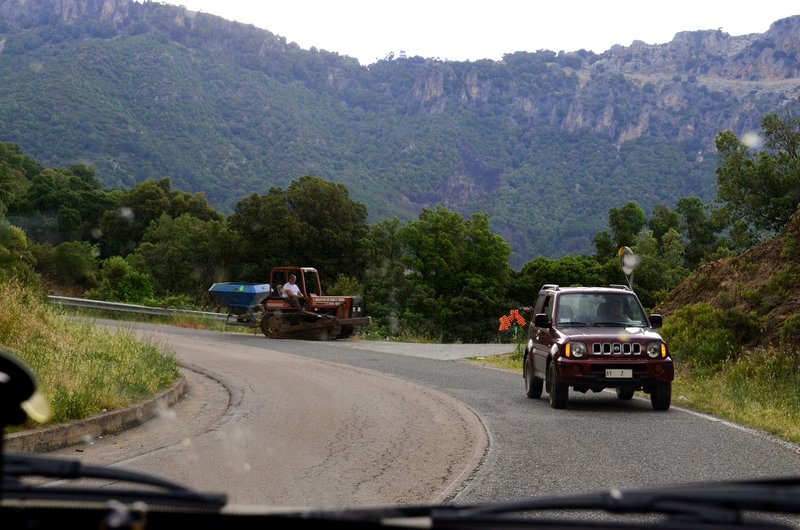 Flumendosa-Lake
Pedra Longa
Unfontunatly, we had do stop and return during the last three tours because of foul weather. The Mrs does not like thunderstorms in the mountains! I have to agree - alone in one car it is not the best idea!
But we will return of couse.